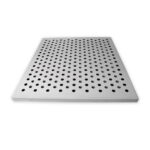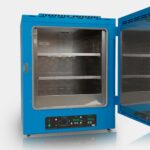 Dry and Decarb Oven Shelves
Increase your forced air oven capacity with extra shelves for Cascade's CDO-5 and -28 benchtop drying & decarboxylation ovens!
Made of clean, laboratory-grade stainless steel, these shelves have a perforated pattern to optimize airflow for uniform drying and decarboxylation.
Less is More
Overloading the oven with extra shelves and product can impede airflow and temperature uniformity. Keep the oven 50% full for optimal dry times.
Ground-Up, Light Weight Material? Less Mess With Temp Rated Mesh Bags
Also makes temp rated mesh bags designed to fit on the CDO-5 and -28 shelves. If your product is subject to turbulence during a forced air drying or decarboxylation process, the mesh bags allow for airflow and keep product turbulence down.
CDO-5 Shelf
Dimensions (W x D):
20.75" x 19"
Weight Capacity:
50lbs (22.7kg) per shelf
Linear Shelf Space Airflow:
145 feet per min / 44 liters per min
*Total product load inside should not exceed 200 lbs (91kg)
Risk of damaging chamber inner liner
CDO-28 Shelf
Dimensions (W x D):
31" x 23"
Weight Capacity:
75lbs (34kg) per shelf
*Total product load inside should not exceed 450 lbs (204g)
Risk of damaging chamber inner liner