PurePressure Solventless  Extraction Solutions
Premium solventless processing products and rosin presses to support any operation, big or small.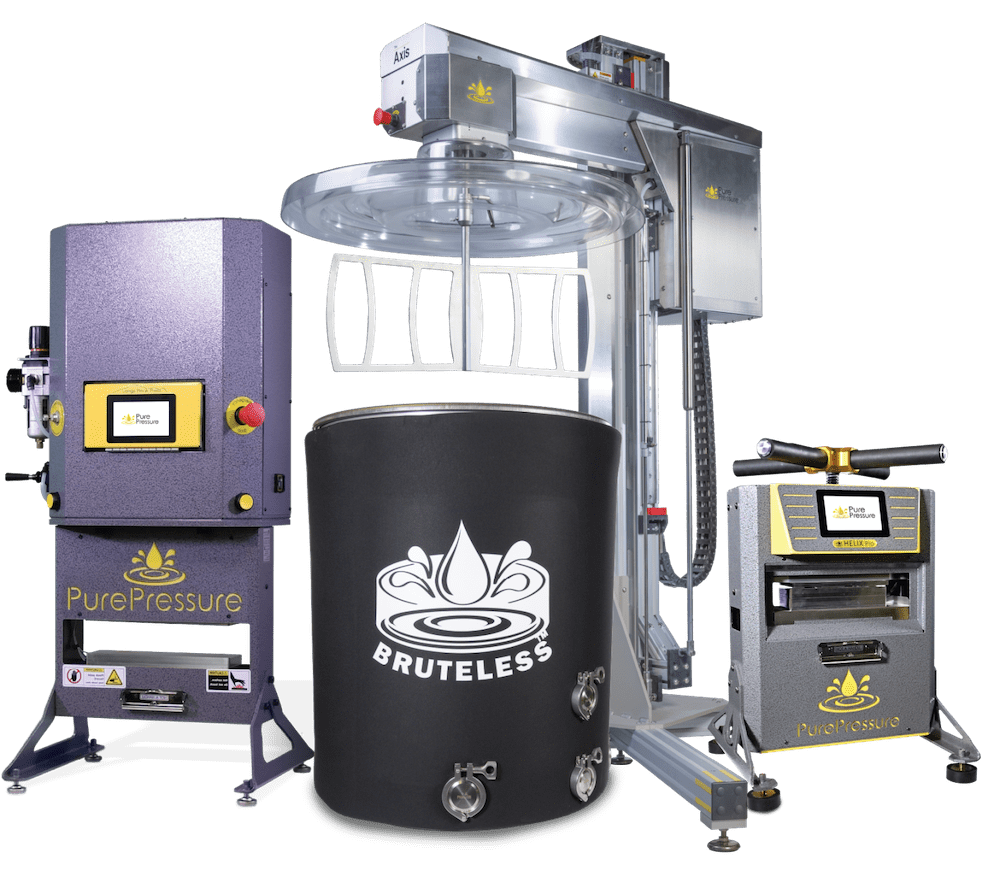 PurePressure Rosin Presses
& Solventless Processing Equipment
PurePressure's rosin presses are engineered specifically for the intricacies of solventless extraction. Choose from industry-leading machines like the Helix Pro 5-Ton Manual Rosin Press with its user-friendly design and 5-ton force capabilities, or the Longs Peak with its unmatched precision and superior processing output. Each rosin press is equipped with our intuitive touchscreen Pressware™ technology, giving you full control over your extractions.
FDA food-contact-compliant vessels for ice water hash and bubble hash washing. Crafted from sanitary welded stainless steel, these Bruteless™ containers possess full food contact approval and are designed for effortless cleaning. Available in 20, 30, 44, and 65 gallon. PurePressure also offers the Axis Trichome Separator, a cutting-edge advancement in solventless processing technology. This innovation empowers hash makers to significantly enhance the efficiency and throughput of their hash-washing process while accurately emulating the manual hand paddle agitation.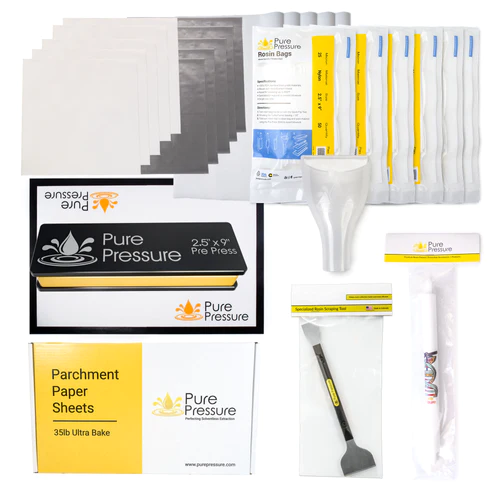 Solventless Processing Tools
PurePressure has every accessory you need to better prepare, press, and rosin collection. Our accessories are the best in the business and are specifically made for solventless extraction.
Whether you already have an existing processing lab or are starting a new one, our extraction experts are here to help you take operations to the next level with onsite extraction training.  
Onsite Trainings
During our onsite cannabis extraction training, a Solventless Extraction Expert from our team travels to your facility to take you and your team step-by-step through the process of Solventless Extraction using PurePressure equipment. All training packages include SOP bundles for the processes covered, lab set up support, and several hours of remote consultation. Best of all, you'll finish the training with product ready to sell! Our training packages are geared towards either hand washing or use of the Axis Trichome Separator, along with either basic or advanced extraction methods.
Basic Extraction Training Packages
Our Basic Training packages for both hand washing (2 days) and the Axis Trichome Separator (3 days) are designed to teach you the fundamentals of operating a solventless cannabis extraction lab. By the end of this solventless extraction course, you and your team will have a thorough understanding of Hash Washing, Freeze Drying, and Pressing techniques, and will be able to consistently manufacture Ice Water Hash and Live Rosin SKUs. This cannabis technician extraction training is ideal for operators just getting into solventless extraction and who want to make the most of their new equipment!
Advanced Extraction Training Packages
Our Advanced Training packages for hand washing (5 days) and the Axis Trichome Separator (6 days) include all content covered in the Basic Training packages but are expanded to include the most unique and exciting Rosin consistencies on the market. By the end of this training, you and your team will have a thorough understanding of not only Hash Washing, Freeze Drying, and Pressing, but also Jar Tech, Mechanical Separation, and Vape Cart Formulation techniques. With this knowledge a technician will be able to consistently manufacture the following SKUs: Ice Water Hash, Live Rosin, Wet Badder, Cold Cure, Jam, Sap, THCa Isolate, Diamonds & Sauce, and Rosin Vape Pens. This training is ideal for operators of all levels but is best suited for those with some knowledge of solventless extraction who are looking to make new and exciting products.
Training Manager Ryan Lecates (@rosin.ryan) has over seven years of experience in the cannabis industry. Prior to joining PurePressure, Ryan produced BHO before moving to Olio, then 710 labs, to focus on solventless extraction. In 2017 he created the first THCA isolation to market, on a press without the use of solvents, and, in 2018, a consistency now known as "rosin jam," which mimics the look and feel of a hydrocarbon live resin. The extracts he's worked on have won numerous awards.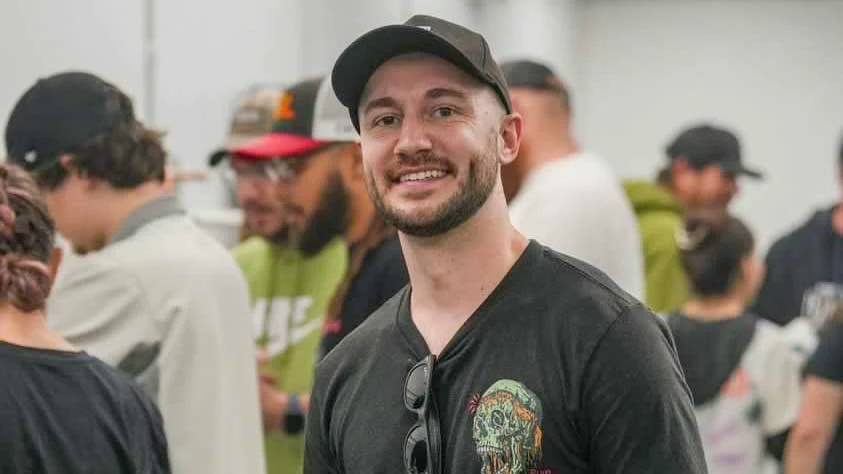 At Precision, we collaborate with industry leaders to offer our customers the finest turn-key solutions. We understand that utilizing top-of-the-line ancillary extraction equipment is a crucial factor in producing superior cannabis products. That's why we provide an extensive range of solutions, allowing you to get up and running quickly with trusted equipment and support. Get in touch with one of our representatives to learn more about our third-party equipment solutions, including pricing and product offerings.